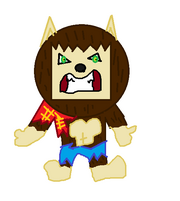 Werewoof is a werewolf. He has the lust to kill.
Description
Edit
Werewoof is a peach and brown werewolf. However, He is a cat until he sees the full moon. When that happens, he turns into a werewolf. He wears blue jeans and a red and yellow shirt.
Werewoof's name is delivered from the actual word "werewolf".
Werewoof is also based off of the wolf man.