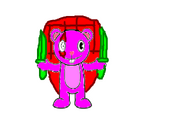 Splicer is a beaver. He likes swords.
Appearance
Edit
Splicer is a lavender beaver with a red tail. His left eye has a scar on it, making its center (except for the outline) white. He is usually seen carrying two green swords.
Splicer never purposely kills other characters. When he does kill, it is always an accident.
Splicer is yet to appear and die in a comic.
Ad blocker interference detected!
Wikia is a free-to-use site that makes money from advertising. We have a modified experience for viewers using ad blockers

Wikia is not accessible if you've made further modifications. Remove the custom ad blocker rule(s) and the page will load as expected.