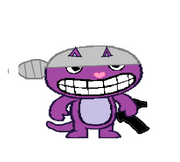 Hunter is a cat. He loves hunting animals. He has killed Bears, Cats and even Elephant seals. He has not killed a Fox yet.
Description
Edit
Hunter is a purple cat who wears a Grey raccoon skin hat. Hunter also owns a black hunting rifle.
The Hunter And The Fox ( Nails thrown at face, mouth pulled out, stabbed, shot and decapitated)
Hunting Morons (Killed by sly)
Attack (Head vaporized)
Hunter wears a raccoon skin hat, similar to Davy Crocket.
Hunter's rifle resembles Optimus Prime's ion blaster.