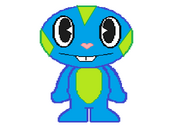 Burty is a fan character. Deadlydark made him.
Description
Edit
Burty is a blue alien without ears or a tail. His abdominal marking and top and sides of his head are green.
Snare: Confirmed to have died off screen. Death not seen. Permanent
Burty was one of the first of deadlydark's characters.