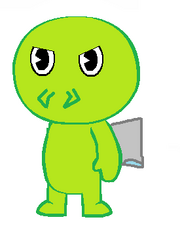 Alien invaders are an empire of aliens. They love killing, sometimes leading to some of their deaths.
Description
Edit
Most alien invaders have a common look; green, two eyed aliens with giant grey blasters on their arms. However, some have one or more eyes and a rifle like blaster on their right arm.
They have saucers in which they fly in.